ESET Endpoint Antivirus
---
How are TSA Scores determined?
The Software Authority strives to be different! Our results are based on factual data and you will never see a non-certified product that you never heard of being rated highly for the sole purpose of pushing sales like we often see on other review sites.
With increasing computer processor speeds being able to handle heavy workloads and improving performance significantly, TSA Scores are focused more on how well a security product protects your system from malware, viruses, and threats as opposed to how much system impact does this security product have. Reality is, if you obtain a nasty Ransomware virus as an example, does having a product that uses limited computer resources matter if you can no longer access your computer?
The TSA Score is determined by analyzing the latest review data from multiple independent testing laboratories, other reputable third party review sites and our many years of experience in the security software industry. The results from these sources are then inputted into a proprietary formula that determines the final TSA Score.
Independent Lab Results
Description
ESET Endpoint Antivirus
Superior Antivirus for Your Business
Designed to support networks large and small, ESET NOD32 Antivirus Business Edition with ESET Remote Administrator lets you focus on running your business, not your antivirus software. The solution delivers state-of-the-art proactive malware defense without the slowdowns, false positives, and other issues that impact end users and tie up your IT staff.
Antivirus
Antispyware
---
Key Benefits
Easy to Manage – ESET Remote Administrator makes setup and management of endpoint security a snap.
Easy on Your System – Engineered to use minimal system resources, ESET NOD32 Antivirus Business Edition ensures applications run faster, files load quicker, and systems boot rapidly.
Protection from the Unknown – ESET ThreatSense® utilizes industry-leading proactive detection to keep your company data safe from existing and emerging threats while keeping false-positives to a minimum.
Customizable Solution – Fully scalable to protect businesses of all sizes on physical or virtual endpoints.


Proven Solution
ESET NOD32 Antivirus received the Best Antivirus Product Award (2006, 2007) and was recognized for best detection and overall performance (2008). ESET holds the highest number of AV-Comparatives Awards.
---
ESET Remote Administrator

With ESET Remote Administrator, you can easily manage tens to even hundreds of thousands of Windows, Mac, Linux, or mobile endpoints — all from a single console. Apply policies and rules, monitor detections, and remotely configure from any networked computer. ESET removes the complexity and repetition out of endpoint security administration.
---
Easy on Your PCs
Whether you have a small network or a large one with thousands of endpoints, management of ESET security solutions consumes minimal system resources and saves a lot of time. Program upgrades and signature updates stay small and can download from a mirror.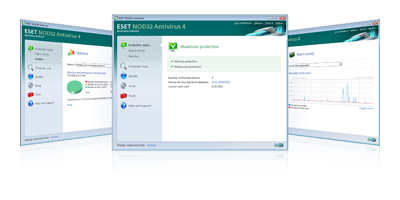 ---
Advanced Remote Management Tools
The ESET Remote Administrator feature has Policy Manager (with Active Directory synchronization), Notification Manager and Remote Installation to save time for your IT staff and deliver instant alerts when intervention is needed. Web-based reporting enables you to monitor network security anywhere, anytime.
Encrypted Communication Scanning
Thoroughly scans the content of secure HTTPS and POP3S protocols, and compressed files to uncover stealthy malware.
 Removable Media Scanning
Ensure that all files stored on USB thumb and external drives don't pose a threat, especially those launched automatically.
Features high scanning speeds and a small system footprint that preserves your computer's performance.
For real-time protection from the unknown, trust industry-leading heuristic-based detection technology.
Diagnostic and Recovery Tools
Get a state-of-the-art diagnostic tool for Windows operating systems that provide snapshots of key system parameters from processes to registry keys to simplify diagnostics and troubleshooting capabilities.
Create bootable system recovery media that helps eliminate hard-to-remove forms of malware, which speeds recovery of compromised systems.
Integrated technology prevents malicious software from corrupting or disabling your computer's protection.
System Requirements
System Requirements
Operating Systems: Microsoft Windows ® 7/Vista/XP/2000/NT
Memory: 80 MB
Disk Space (Download): 32-bit: 54 MB; 64-bit: 60 MB
Disk Space (Installation): 32-bit: 64 MB; 64-bit: 78 MB


ESET Remote Administrator Requirements
ESET Remote Administrator Console
Operating Systems:
Microsoft Windows® 7/Vista/XP/2000
Microsoft Windows® Server 2008/2003
Internet Browser:
Internet Explorer 5.5 and higher
ESET Remote Administrator Server
Operating Systems:
Microsoft Windows® 7/Vista/XP/2000
Microsoft Windows® Server 2008/2003
Easy on Your Servers
ESET Remote Administrator has low system requirements. For example, if installed on a server running Microsoft Windows Server 2003 and administering 500 client installations, it only requires:
1 GHz Processor
1 GB RAM
2 GB free disk space
100 Mbps Network Adapter